Speed of Advance (SOA): the speed of a ship anticipated along an intended track; the average speed required to arrive at a destination at a specified time. In the navy, nothing is left to chance. Every strategy is tested, every resource is utilized with minimal excess and remarkable efficiency. This streamlined convergence of people, processes, and technology is the pinnacle of productivity-and its benefits resonate far beyond military endeavors.
Marty Groover spent more than two decades leading an intricate operational symphony of communications processes, computer systems, and weapons programs as a surface warfare officer.
In his book - Speed of Advance, Marty shares what he experienced in the Navy firsthand: how to harness the power of technology to drive untouchable results. By eliminating damaging silos and increasing skill sets, Marty shows you how to create an enhanced, synchronized system between technology and the people who use it-a process that will lead you into the Fourth Industrial Revolution. Lean. Impactful. Intersected. These are the businesses that will thrive in the challenges of Industry 4.0.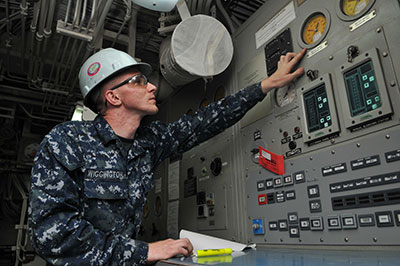 Marty Groover provides important insights and methods gained from his time as both a naval officer and operations leader that will strengthen your organization's strategy deployment and continuous improvement efforts.
- Jim Morgan, PhD, President of EMC Network, senior advisor to the Lean Enterprise Institute, and co-author of The Toyota Product Development System and Designing the Future.
The Digital Supply Chain
Learn how best to deploy Industry 4.0 technologies for end-to-end visibility throughout the supply chain.
The Future of 4th Industrial Revolution
The technology stage is all set for the fourth and an unprecedented pace of transformation. What's in it for you?